Сказочный дворец Мохаммеда — Эмира Дубая
Эмир Дубая и вице-президент ОАЭ Мохаммед ибн Рашид Аль Мактум сказочно богат. Его состояние, о котором слагают легенды, исчисляется миллиардами долларов. Говорят, в его семье принято есть конфеты вместе с обёртками, которые изготовлены из тонких золотых пластинок.
Вот и в дворце шейха Мохаммеда в Дубае, фото которого часто ищут пользователи сети, наверняка, чего только нет. При его-то деньгах и возможностях!
Посторонним вход запрещен
Это только королева Великобритании милостиво покидает свою резиденцию на пару месяцев, чтобы её дворец смогли увидеть туристы со всего мира. У арабов такой традиции нет. Они бережно охраняют личное от чужих глаз и пекутся о собственной безопасности.
Это при том, что эмир горячо любим своим народом. Его резиденция тоже считается "личным", и посторонним сюда вход запрещен.
Если снаружи дворец шейха Мохаммеда в Дубае ещё можно кое-как разглядеть, многочисленные фото в Интернете — тому подтверждение — то о внутреннем убранстве можно только гадать.
По слухам, в этой резиденции, как и в отдельных "шатрах" его многочисленных жён и детей, всё, включая санузел, отделано золотом и парчой. В оформлении интерьера много слоновой кости и красного дерева. Дворец обставлен эксклюзивной итальянской мебелью. Украшают интерьер люстры из богемского стекла.
Шейх — страстный поклонник автомобилей и лошадей. И на территории его резиденции, конечно, есть собственный автопарк и конюшни. Стойла оборудованы современной системой кондиционирования, чтобы скакунам комфортно жилось.
Поговаривают, что для жеребцов Мохаммеда доставляют редкую траву из самой Австралии: чистокровные арабские лошадки предпочитают употреблять в пищу именно её.
Вторым домом эмира можно по праву назвать его самую большую в мире яхту "Дубай". Здесь созданы все условия для комфортного проживания. На яхте есть просторные столовые, бассейны, стеклянная лестница, вертолётная площадка и даже собственная подводная лодка.
Резиденция шейха снаружи
Туристам можно взглянуть на дворец Мохаммеда лишь издали. Расположен шикарный дом шейха в южной части столицы ОАЭ. Резиденция знаменитого правителя построена в арабском стиле и окружена огромной озелененной территорией.
Ворота на входе в резиденцию представляют собой триумфальную арку, на вершине которой красуются пять лошадей. Скульптура как бы намекает: здесь живёт любитель породистых скакунов.
Обзорная экскурсия по Дубаю включает и посещение резиденции Мохаммеда. Но внутрь никого, конечно, не пускают. Зато можно погулять по парку, который окружает дворец (главное не заходить за установленную линию: служба безопасности шейха тщательно следит за этим).
Многие туристы едут сюда посмотреть на павлинов, которые вальяжно разгуливают по парку. Красиво здесь и в вечернее время, когда включают подсветку (она вмонтирована даже в дорожки, по которым прохаживаются туристы).
Экскурсия в Дубай
Желающим посмотреть город Дубай из города Шарджа предлагается несколько вариантов экскурсий, не считая бесплатных шатлов, которые ездят к разным торговым центрам ежедневно 2 раза в день. Мы выбрали обзорную экскурсию Дубай с посещением искусственного острова Пальма Джумейра, аквариума и поющих фонтанов. Начало экскурсии в 14 часов, заканчивается она в 22 часа.
Сначала нас повезли ко дворцу шейха Мухаммеда ибн Рашид аль Мактум. Во внутрь дворца не пускают и даже близко ко дворцу подойти нельзя. Можно только полюбоваться издали резиденцией настоящего шейха эмирата Дубай. В Эмиратах самый богатый эмират Абу Даби, второй по богатству Дубай, а третий — Шарджа.
Дворец шейха Дубай Мухаммеда ибн Рашид аль Мактум
Дворец шейха Дубай Мухаммеда ибн Рашид аль Мактум
Рядом с дворцом шейха Дубай Мухаммеда ибн Рашид аль Мактум
Затем мы поехали на Пальму Джумейра – это искуственный архипелаг, который из космоса смотрится в виде пальмы. Для нас посещение Пальмы Джумейра — это была поездка в автобусе по широкой дороге между высоток. Потом нас остановили рядом с семизвёздочным отелем Атлантик, самый дорогой номер, в котором, стоит 20 000 евро за ночь. Там мы его сфотогрфировали и поехали назад. Было, конечно, некое чувство разочарования… Но мы всё-таки побывали на Пальме! Её, наверное, интересней смотреть из космоса
Пальма Джумейра. Отель Атлантик.
Отель Атлантик на Пальме Джумейра
Пальма Джумейра. Рядом с отелем Атлантик. Они позируют для вас
Пальма Джумейра. Море рядом с отелем Атлантик.
Потом нас повезли к отелю Бурж аль Араб 7* в переводе — Аравийская Башня, но этот отель все называют Парусом.
Зачем нас туда повезли остается загадкой. Фотографироваться там не разрешают, но мы, конечно нашли точку откуда можно было сфотографироваться, но это — не лучший ракурс отеля. Чёрт те где выгрузили, шли по жаре, по шоссе… А этот отель виден из многих других точек Дубая и под лучшим ракурсом. На Парусе есть площадка, куда садятся вертолеты с гостями отеля. Снизу эта площадка для вертолётов смотрится как тарелочка.
Отель Парус в Дубай. Отсюда видна посадочная площадка вертолёта — это тарелочка наверху.
Отель Парус в Дубай. Это специально обученный человек запрещает фотографировать и подходить поближе.
Дальше нас повезли к отелю Мадинат Джумейра – Это дубайская Венеция. На Венецию это место похоже слабо, но место весьма симпатичное и колоритное. Торговый центр с сувенирами, которых больше я нигде не видела. Что-то типа антикварных лавочек. А вокруг торгового центра и отеля каналы, по которым можно покататься на лодочках. Но у нас , конечно, не было времени, чтобы кататься на лодочках. В рамках экскурсии можно было успеть пофотографировать и купить что-то в торговом центре.
Дубайская Венеция или отель Мадинат Джумейра
К сожалению, кроме отелей и торговых центров смотреть в Дубае вроде как и нечего, но они, бесспорно, удивительны и хороши.
Последняя точка, куда нас привезли — Дубай молл — это самый большой в мире торгово развлекательный центр, его площадь 1,2 млн кв. м! Безусловно за день, а тем более за вечер его не посмотреть.
Одна из достопримечательностей Дубай молла — это водопад с ныряльщиками за жемчугом. Высота этого водопада 30м. Можно подняться на эскалаторе до его вершины. Жемчуг был испокон веков у арабов главным экспортным богатством до того , как нашли в эмиратах нефть. Лично меня этот водопад и другие диковинки Дубай молла впечатлили.
Водопад с ныряльщиками за жемчугом в Дубай молле.
Водопад в Дубай молле
В Дубай молле есть ещё и удивительный огромный аквариум и подводный зоопарк. Всё это сделано лучшими в мире, чтобы привлечь туристов со всего мира и ошарашить их увиденным.
В подводном зоопарке Дубай молла
В подводном зоопарке Дубай молла
В подводном зоопарке Дубай молла
В подводном зоопарке Дубай Молла
В подводном зоопарке Дубай Молла
В подводном зоопарке Дубай Молла
Аквариум Дубай Молла внесён в книгу рекордов Гинеса. Размеры этого гигантского аквариума впечатляют — толщина стенок 75 см, боковая стена аквариума, который можно смотреть бесплатно — имеет ширину 32,8 м и высоту 8,3 м. Это 3 этажа в высоту. А весь аквариум имеет размер 51×20×11 м и в нём живут более 30 тысяч водных жителей — рыбы, акулы, скаты… Есть и тоннель, есть и зоопарк, но это уже платно.
Фотографировать аквариум и тоннели очень сложно. Во-1-х очень много людей, во 2-х, стекло, свет, огромные размеры…
Дубай Молл. Здесь немного виден аквариум справа внизу.
В самом конце экскурсии мы полюбовались бесплатным шоу поющих и танцующих фонтанов. Это шоу длится 5 минут, повторяется каждые полчаса с 18 до 22. Можно посмотреть это великолепие и днём — в 13 и 13.30. Вечером, когда стемнеет шоу значительно красочнее и интереснее. Высота фонтанов достигает 150 м, длина 250 м, украшают его 50 разноцветных прожекторов и прекрасная музыка, популярная во всём мире.
Вид на озеро Бурдж Халифа, на отель парус от Дубай Молла. Здесь проходит знаменитое шоу поющих фонтанов.
Поющие фонтаны в Дубай
Поющие фонтаны в Дубай
Поющие фонтаны в Дубай
В Дубай Молле. Молодёжь.
Дальше нас ждут экскурсии в в Аль -Айн, в дом-дворец шейха Саида, в зоопарк и в крутой отель, который находится на одной из самых высоких гор в Эмиратах. Не пропустите!
Heritage Attractions of Dubai
"Our Union stems from our heritage…the Spirit of the Union paired vision with work, hence cultivating success." – HH Sheikh Mohammed bin Rashid Al Maktoum
Introduction to Dubai History
The most beautiful, picturesque and tourist-worthy sights in Dubai are its historical attractions, many of which are set around the natural seawater inlet, the Dubai Creek. To understand how Dubai has come to be the trade center of the world, a visit to these heritage attractions are an eye-opening and humbling experience. In addition to their setting against sea water their old, preserved architecture, their style and feel all enhance their charm and aura.
Most importantly, the historical stories that situate them help us understand how this nation has emerged. Furthermore, these stories shed light on the landmarks in its development and the perseverance of its people. In this blog, we will read about the main heritage attractions of Dubai, their highlights and their modern day relevance. Of course, the best way to experience these are to actually walk through them with our expert guides during our signature Old Dubai & Souk Walking Tour. The primary heritage attractions in Dubai can be clubbed together based on their location:
Al Fahidi District ♦ Al Souk Al Kabeer (Bur Dubai) ♦ Al-Shindagha Historical District ♦ Historical Souks District ♦ Al-Ahmadiya Historical District ♦ Jumeirah Mosque
Together, these heritage attractions play host to traditional art and architecture in addition to many different museums, forts, traditional markets (souks), traditional boats (abras), traditional Emirati cuisines and loads of cultural references. A look at the history of this desert town makes you admire its modern day developments even more.
The info-graphic below will help you understand the location of most of the heritage attractions with reference to the always mesmerizing Dubai Creek, which offers stunning views of Bur Dubai and Deira (the two Dubai districts the Creek separates).
Bird's Eye View of the Main Attractions Around the Dubai Creek:
Gold Souk
Spice Souk
Dubai Creek
Dubai Heritage Village
Sheikh Saeed Al Maktoum's House
Meena Bazaar in Bur Dubai (Old Textile Souk)
Dubai Musuem
Al Fah >I. Al Fahidi District
Built in 1859, the Al Fahidi Historical Neighborhood initially was the residential area of wealthy merchants. Till date, their homes are preserved to showcase the traditional Arabic home architecture with their wind-catching Barjeel. Each narrow alley in this unique district features a trip down the historical life that bustled through these characteristic streets. This is a popular stop for tourists owing to its many art cafes, restaurants, boutique hotels, and its very own Sheikh Mohammed Center for Cultural Understanding (SMCCU).
The Al Fahidi Neighborhood is a not-to-miss destination of Dubai – this is where the Dubai Museum, the famous Coffee Museum, and the Ruler's Divan are also located. The Dubai Museum will help you travel back in time with its almost-real-life displays of what Arab life was like in the past from traditional crafts, traditional occupations such as pearl diving, to traditional clothing. In merely 45 minutes to an hour you can walk through the museum comfortably and soak in rich Emirati history.
The Coffee Museum is very popular among tourists as it features the coffee making and drinking traditions of not just the UAE but also from other parts of the world. You can also enjoy a cup of coffee with some dates inside the café and get refreshed and energized for the rest of your day of sightseeing. The Alserkal Cultural Foundation art gallery and café combo is quintessentially set up inside the winding streets of the Al Fahidi District. Furthermore, the food is exquisite, the ambience mesmerizing and the masterful artwork by local Emirati artists and other burgeoning talents from the Arab world make this center and the Make Art Café a perfect stopover destination.
II. Al Souk Al Kabeer (Bur Dubai)
Al Souk Al Kabeer was a community marketplace in Bur Dubai. It consists of the neighboring districts of Meena Bazaar (the old textile souk) and the adjacent Dubai Creek. On sale here are pashminas, carpets, harem pants, embroidered purses and sequined slippers. It also houses the Grand Mosque of Dubai. The Bur Dubai Grand Mosque, originally built in 1850, is the oldest mosque in Dubai. Furthermore,It boasts of Dubai's tallest minaret at 70 meters height. A minaret is a tower from which the call to prayer is broadcast. The Grand Mosque features a Persian-style architecture of blue mosaic, domes in addition to its sand-colored façade.
The Dubai Creek offers a spectacular waterfront scenery for Dubai with the abras (motorized water taxis), sifting people back and forth between Bur Dubai and Deira, traditional restaurants such as Bayt Al Wakeel, sunset Dhow cruises and much more. It is interesting to note here that Bayt Al Wakeel was the first office building in Dubai. HH Sheikh Rashid bin Saeed Al Maktoum led the efforts to dredge the creek to widen and deepen it. This Creek expansion became instrumental in positioning Dubai as a major port city in the Middle East. In addition to the waterfront of the Creek itself, the Dubai Creek Park, and the Dubai Creek The Golf Club offer many more choices of activities and fine dining.
III. Al-Shindagha Historical District
Sheikh Saeed Al Maktoum House was the official residence of the Ruler of Dubai Sheikh Saaed (1912-1958). He was the grandfather of the present Ruler H.H Sheikh Mohammed Bin Rashid Al Maktoum . The house is located on the Shindagha end of the Dubai Creek, and is a repository of old photographs, coins, stamps in addition to important documents. Earlier, Sheikh Saeed's House performed many different roles in addition to being the Ruler's residence. It was the political seat of the government, official meetings, and a place for important gatherings.
Heritage Village, at the opening of the Creek, is a space for artisans, potters and weavers to display their handicrafts. The old Diving Village is currently being renovated in an ambitious plan to transform the Shindagha Historical District into a cultural epicenter to preserve Dubai's Heritage.
IV. Historical Souks District
Across the Dubai Creek, on the Deira side, is the famous Spice Souk. The Spice Souk features large open displays of spices, dried fruits, and nuts such as saffron, vanilla, zaatar, and agarwood. You can even smell some refreshing menthol. As you walk past the Spice Souk, within a short distance, you find yourself in the Gold Souk.
Dubai is famous for its Gold Souk. Most visitors come here out of curiosity and eagerness to purchase some very high quality gold jewelry at very fair prices. The styles of jewelry offer a range from Western modern designs to traditional eastern sets. You can find pearls and precious stones here. Furthermore the helpful shopkeepers can help you choose something from their vast choices of ingots to intricate jewelry designs. The elaborate displays of gold are a sight in themselves.
V. Al-Ahmadiya Historical District
Al – Ahmadiya School, housed in the Al-Ahmadiya Historical District, was the oldest school of Dubai, established in 1912, in Deira. In 1994, the Dubai Government restored the school by converting it to a historical museum. The museum sheds lights on the passion and emphasis on the sciences,. Furthermore it gives insights into educational efforts centered around Dubai's traditional society. Even though resources were scarce, the efforts of traders and philanthropists helped keep up the high standard of education at the school.
VI. Jumeirah Mosque
The Jumeirah Mosque is one of the few mosques in the UAE that is open for public visits. It is the locus for the Sheikh Mohammed Center for Cultural Understanding's "Open Doors – Open Minds" program. In order to help build cross-cultural ties and understanding, the Jumeirah Mosque is open to non-Muslims as well. It is built in the Fatimi style of architecture with its two minarets standing tall and proud. A visit to this landmark mosque is a unique opportunity to learn about Islam, and the Emirati culture. Visits also feature water, dates, Arabic coffee and traditional pastries. Modest attire is recommended out of respect for the local cultural norms.
"To enrich the cultural scene by maintaining a sustainable cultural ecosystem while preserving the Emirati Heritage and nurturing talents to enhance cultural diversity and social cohesion".
Aligning with this mission, the Heritage attractions of Dubai are all well maintained. These attractions bring their own significance and charm to the modern day developments around them.
Even Meraas, a large development group in Dubai is presently working on a new project called Al Seef. It is located right on the Bur Dubai side of the Dubai Creek where most of the Heritage Attractions are situated. This project aims at transforming the old heart of Dubai to enjoy a new atmosphere of cafes, restaurants and shops. Furthermore the shows, events and cultural activities here attract people from all over to the original historic waterfront. This is where fishermen, pearl-divers, weavers and tradesmen once came together. This respect and pride towards Emirati history and culture makes Dubai an ideal platform for diverse cultural exchange and innovation, both in the Middle East, in the Arab World, and also globally.
Conclusion
In the words of the wise late Sheikh Zayed, "A nation without a past is a nation without a present or a future. Thanks to God, our nation has a flourishing civilization, deep rooted in this land for many centuries. These roots will always flourish and bloom in the glorious present of our nation and in its anticipated future."
Althouse
June 29, 2017
"The ruler of Dubai, Sheikh Mohammed Bin Rash >
"One villager, Valerie Wallace, had the idea [to email him] as a last ditch attempt, with the group having failed to raise sufficient funds elsewhere. 'We thought nothing of it and then we began to get phone calls from Dubai. We thought we were being hoaxed but it was no hoax.'"
21 comments:

This is Althouse's response to the deleted commenters in the earlier Ramadan post, I think.
The Methodists of this small English village had abandoned their religion and stop supporting their Church financially. Now, as a community center, it can be repurposed as a secular building open to all faiths.
Why didn't the Methodist church just give the building to the community center group? What happens to the purchase money? Pay debts?

A very nice thing the Sheikh has done. I hope none of the regulars here takes this opportunity to attack him based solely on his Muslim faith.


Deleted for the crime of confusing Welsh with Cornishmen.

Praise be to Moolah, the All-Powerful.
It was an "in your face" donation. The shiek was simply acknowledging that Methodism has failed in England. The future belongs to secularism and Islam. Nothing really nice about it.
Dubai UAE has been one of the key financiers of madrassas that spread Wahabi Islam. 20,000 madrassas in Pakistan alone.
I think it's great that they saved this church, but let's not get carried away here.
What do you think their motivation is? Charity? Goodwill toward men? Public relations?
It would be wrong to think of this as some ecumenical outreach on the part of the Sheikh. The village shares the name of his stables so perhaps there was a sentimental reason for him contributing to (not funding) the purchase of the building that was once a church. As noted above the members of the church had essentially abandoned both the faith and the building.

It will make a nice mosque or mosquette. Eventually.
And just to be clear, these are the madrassas that teach women like Althouse deserve to be gangraped and have acid thrown in their face for showing too much ankle.

This story motivated me to create a tag for Dubai. I then went back into the archive to add it to old posts. Click on the tag to see what's come up over the years about Dubai.
A quick scan of (favorably editted) Wiki reveals the Sheik to be a reformer, cracking down on corruption. Massive aid to charity and humanitarian causes. Also, millions invested in PR works to bridge cutural gaps and promote Dubai.
Another quick net scan brings up international concerns that Dubai is money laundering capitol of the world – blood diamonds, sex slaves, narcotics, mafia. Common for Russian oligarchs to buy a flat to gain residence in what had become a hub for international crime.
Again, saving the church is a good story. I'm not a Christian but I still respect the Sheik for the act of charity.
But my bullshit sensor is going off. I understand if you felt a need to spotlight this in response to prejudice in the Paki thread downpage.
But just a quick net scan of the Sheik and Dubai has me remembering all the wonderful things La Cosa Nostra did for small communities on the east coast.

One of the cool things about Islam is it's safe to assume that the sheikh didn't give them the money because he was hammered.

One of the cool things about Islam is it's safe to assume that the sheikh didn't give them the money because he was hammered.
Not necessarily. My experience is that Moslems, like Methodists, don't drink in front of one another.

Dubai/Emirates is one of the better places in the ME for Filipino OCW's (Overseas Contract Workers, aka gastarbeiter, etc.)
Better treatment, less weirdness than Saudi Arabia.
They actually permit, and subsidize, Christian churches there.
A couple of the family servants spent time as OCWs there (they came home to take a retirement job, more or less, after earning enough to give them a solid financial foundation).

He runs a very nice emirate.
Always go to the top first.

Yes, there are churches in Dubai, a hereditary tribal theocratic monarchy where apostasy is punishable by death as is homosexuality. Female rape victims jailed. No free speech. Illegal for Muslim women to marry non-Muslims. Dreadful labor camps for Third World workers. Mass arrests and torture for political reformers.
Basically, your worst nightmare. It's a real life "Handmaid's Tale."
Methodists. Everybody knows they're going to hell anyway. Heretics.

"Basically, your worst nightmare. It's a real life "Handmaid's Tale.""
No, there are much worse nightmares in this world, and even worse ones in the past. And for every negative, in that case, there are many positives. Emirates/Dubai is a rather nice place for nearly all its residents, compared to what the majority of the world has to put up with.
A list of terribles does not make a worthwhile sense of perspective.
This is the same fault, from a different direction, that you get from university "studies" departments. They see what they hate, and nothing else.
Дворец шейха Мухаммеда, The Residence of the Ruler of Dubai – Дубай
Dubai is the second largest emirate. Its population is estimated to be 2,446,675 individuals at the end of 2015. Dubai's GDP reached around AED 338 billion as of 2014.
About Dubai
Dubai is the second largest emirate with an area of 4,114sq. km., which is about 5 per cent of the UAE without the islands.
The older districts of Dubai cover an area of 1500sq. m. and is called 'Pearl of the Gulf' and 'Jewel of the world' because of its heritage and history.
Population
The population size of the emirate of Dubai is estimated to be 2,976,455 individuals at the end of 2017; of whom 2,088,870 are males and 887,585 females.
The higher proportion of males in Dubai community (229 males per 100 females) is attributed to the fact that the majority of expatriate workers are males who are not accompanied by their family members.
For a daily update on the population, you can check the population clock on the website of Dubai Statistics Center.
According to Federal Competitiveness and Statistics Authority, the estimated population of UAE nationals as of 2010 in the emirate of Dubai was:
Location and geography
The emirate is located on the eastern coast of the Arabian Peninsula, in the southwest corner of the Arabian Gulf. It shares its boundaries with Abu Dhabi in the south and Sharjah in the northeast. It shares its international border with the Sultanate of Oman in the southeast. Dubai is roughly 16m. or 52ft. above sea level.
Dubai city is the capital of the emirate. It is characterised by the historic creek, which divides the city into:
Deira in the north
Bur Dubai in the south
In 2016, a new addressing system was launched which involved dividing the emirate into 14 districts.
Dubai has several sandy beaches on its western side, a mangrove at the eastern end of the creek, many deserts in the interior and western regions and wadis in the Hatta region.
Economy
Dubai creek was a natural harbour; this helped Dubai to become a centre for fishing, pearling and sea trade. By the beginning of 20th century, Dubai had developed into a successful port city.
The discovery of oil in 1966 transformed the emirate and its way of life. Dubai's first oil exports in 1969 were followed by a period of rapid development that laid the foundations for today's modern society.
Dubai was the first to establish Islamic banks worldwide with the opening of Dubai Islamic bank (DIB) back in the 1970s, in addition to starting the Dubai Financial Market (DFM), which is the first global Shari'a compliant exchange.
In the 1980s and early 1990s, Dubai took a strategic decision to emerge as a major international-quality tourism destination.
Dubai's economy is no longer reliant on oil. It is now more diversified; relying heavily on trade, services and finance sectors, with a thriving business community. Dubai's GDP reached around AED338 billion as of 2014.
H. H. Sheikh Mohammed bin Rashid Al Maktoum, Vice-President and Prime Minister of the UAE and Ruler of Dubai, launched Dubai Plan 2021 in 2014. The plan aims to reinforce Dubai's position as a key player in the global economy and one of the top five centres for trade, logistics, finance and tourism.
In November 2013, Dubai was voted to host the World Expo 2020.
Tourism
Dubai boasts of world-class hotels, modern architecture, entertainment and dining venues, traditional markets, shopping centres and sporting events.
Some of the major tourist attractions in the emirate are the wadis of Hatta, the sail-shaped Burj Al Arab hotel, which is also the world's only seven-star hotel and Burj Khalifa, which is the world's tallest skyscraper.
Ruling family
Dubai was established in 1833, when some 800 members of the Bani Yas tribe, led by the Maktoum family, settled by the Dubai creek. Since then, the Al Maktoum family have ruled Dubai.
The eighth ruler from the Al Maktoum family, the late H. H. Sheikh Rashid bin Saeed Al Maktoum, ruled Dubai from 1958 to 1990. He guided the emirate with compassion and understanding. He realised what was necessary to transform Dubai into the cosmopolitan, prosperous city it is today.
H. H. Sheikh Mohammed bin Rashid Al Maktoum is the Vice-President and Prime Minister of the UAE and Ruler of Dubai. He became the Ruler of Dubai on 4 January 2006, following the demise of his brother and the then Ruler, H. H. Sheikh Maktoum bin Rashid Al Maktoum.
Useful links:
About UAE: the seven emirates – Ministry of Foreign Affairs & International Cooperation
About Dubai – The official portal of Dubai Government
VisitDubai – The official tourism portal of Dubai
Princess Haya Bint al-Hussein: The Dubai royal 'h >
Share this with
These are external links and will open in a new window
These are external links and will open in a new window
Close share panel
Princess Haya Bint al-Hussein, a wife of the ruler of Dubai, Sheikh Mohammed Al Maktoum, has left her husband – a highly unusual move for a senior royal in the UAE.
She has applied for a protection order in the High Court in London, and is seeking wardship of her children.
Sources told the BBC she was in fear for her life as she prepared for the court battle with her husband.
She is said to be hiding in a townhouse in central London.
She was conspicuously absent from Royal Ascot this year, despite being an Olympic rider and a regular at races.
Growing up
Princess Haya was born in May 1974. Her father was King Hussein of Jordan, and her mother was Queen Alia al-Hussein. She was just three years old when her mother was killed in a helicopter crash in the south of the country.
The current ruler of Jordan, King Abdullah II, is her half-brother.
The princess spent a lot of time in the UK as a child. She was educated at two private schools, Badminton School in Bristol and Bryanston School in Dorset, before studying Politics, Philosophy and Economics (PPE) at Oxford University.
She has previously told interviewers that she has a passion for falconry, shooting and heavy machinery, and she claims to be the only woman licensed to drive heavy trucks in Jordan.
She took up horse riding as a young girl and found a passion for the sport, and in her 20s she pursued a career as a full-time professional equestrian athlete. The highlight of her riding career came when she represented Jordan in the 2000 Olympics in Sydney and was her country's flag bearer.
'I am lucky to be close to him'
On 10 April 2004, aged 30, Princess Haya married Sheikh Mohammed – the vice president and prime minister of the UAE, and the ruler of Dubai. He was 53 at the time, and Princess Haya was his sixth and "junior" wife. He reportedly has 23 children by his different wives.
Like her, he was keen on horses: he was the founder and owner of Godolphin horse-racing stables. The couple were wed in a ceremony in Amman. In the years since, Princess Haya has spoken effusively in public about her relationship with Sheikh Mohammed, painting a picture of perfect family life.
"Every day I am amazed by the things he does," she told Emirates Woman magazine in 2016. "Every single day I thank god that I am lucky enough to be close to him."
But cracks appeared to show last year when Sheikha Latifa, one of Sheikh Mohammed's daughters, tried to flee the country. In a video that spread worldwide, the 33-year-old princess claimed she and her family "did not have freedom of choice" in their lives, and that she had been subjected to abuse.
Sheikha Latifa reportedly escaped the UAE by sea with the help of a Frenchman, but was intercepted by armed men off the coast of India and returned to Dubai. In December, photos were released of her sitting next to the former Irish president Mary Robinson at home in the emirate.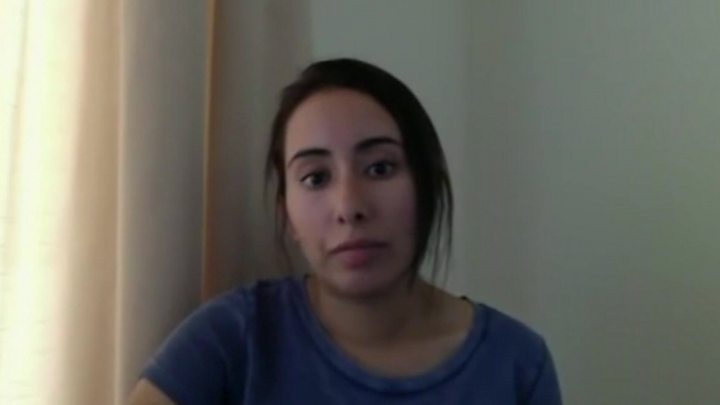 The authorities in Dubai insisted Sheikha Latifa had been "vulnerable to exploitation" and was "now safe in Dubai". At the time, Princess Haya echoed the statement, saying it was "unimaginable that this thing has gone so far from the truth".
But now, just over six months later, sources close to Princess Haya told the BBC that she had discovered disturbing facts about Sheikha Latifa's attempt to flee and been subjected to increasing hostility and pressure from members of her husband's extended family. She reportedly no longer felt safe, and fled to Germany before moving on to the UK with her children.
She has now applied for a forced marriage protection order and a non-molestation order in the UK High Court in London – as well as wardship of her children.
Her husband has not responded formally to reports about their marriage. He did post on Instagram on 10 June, accusing an unidentified woman of "treachery and betrayal".
In court, he has asked for his children to be returned to Dubai.
Princess Haya is said to be living in an £85m ($107m) house in Kensington Palace Gardens.